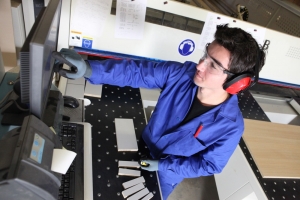 In a modern manufacturing environment, an ERP solution isn't just an accounting system. Strong ERP products can be put into play as an integral part of your shop floor production processes, with data collected in realtime for analysis, reporting, and calculation of margins and variance from plan.
But as with any software program, the insights provided are only as good as the data that feeds those insights. Selecting an ERP with strong shop floor features – and properly implementing and training your team on those features – ensures that you collect data that empowers quick responses to bottlenecks and easy analysis of profitability.
---
Improve inventory processes with barcode scanning
In a high-volume shop floor environment, manual processes for entry of Work-in-Process (WIP) inventory can create opportunities for user error. Relying on manually-entered inventory picks or backflush quantities from the Bill of Materials (BOM) can make it easy to introduce errors resulting from scrap, shrinkage, or variable inventory usage, which can result in inaccurate margin reporting and misleading stock levels.
Introducing barcode scanning into your picking process can make it easy to ensure that the inventory assigned to a Work Order is 100% accurate – taking into account actual pick quantities, source locations, destination work centers, and any unexpected scrap or damage.
If some or all of the materials you utilize are lotted or serialized, use of License Plate (LPN) labels or GS1 barcodes with embedded lot numbers, serial numbers, and/or expiration dates can ensure full end-to-end traceability as these materials move through your warehouse and manufacturing processes, from receipt to sale of finished goods.
---
Integrate Time & Attendance functionality
If your ERP solution offers Time & Attendance functionality, production personnel can easily clock in and out of jobs from within the ERP system, mobile data collection devices, or physical timeclocks. Using this functionality allows you to easily track the true human cost (and amortized machine cost) of producing a particular product without manual and paper processes.
Even with this functionality turned on, it's important to establish safeguards to ensure the collected data is accurate, such as:
If production staff are only working on one task at a time, disable their ability to clock in to an operation without clocking out of another
Cross-reference timesheet data with work order data to ensure that employees who have badged out for the day are not still clocked into work orders
Run daily reports on employees who have been clocked in for an unusual amount of time and may have forgotten to clock out
Run variance-from-plan reports and investigate work orders with unusual negative variance
---
Ensure processes flow within the ERP system
Shop floor processes and procedures should be designed with the ERP solution in place as a critical tool to help users do their jobs, not just an afterthought or secondary action. If users become accustomed to recording data after-the-fact or working around the ERP, data quality will suffer, and you'll lose the real-time insight into shop floor activity that is so critical as volume increases.
Leverage your ERP's Manufacturing Execution System (MES) module to ensure that shop-floor staff are working in the ERP for critical tasks such as:
Clock-in/clock-out
Job data review
Work instructions
Retrieval of drawings/specs
Data collection
Production recording
These workflows allow your team to seamlessly record data in the ERP system as they move through the production process, which in turn ensures that data is accurate and up-to-the-second.
https://bizowie.com/wp-content/uploads/2018/12/MfgShopFloor.jpg
667
1000
bizowie
https://bizowie.com/wp-content/uploads/2018/07/bizowie-resized.png
bizowie
2019-11-01 18:39:11
2020-10-30 19:25:44
3 Ways to Increase Shop-Floor Data Accuracy